Banner13

Banner12

Banner 11

Banner 10
Registration & Awards
We ask all walkers to register in advance of the Walks. You can do this online using the registration form opposite. Pre-registered walkers can collect their Start Cards at the Desk when it opens at 12.00hrs. At 20.00hrs on Wednesday evening there will be a short but important briefing session and we encourage all walkers to attend. The Registration Desk will re-open after the briefing.
Registration Fees
Road Walks – 20km
Adult Registration Fees: 4 days - € 48 3 days - € 36 2 days - € 24 1 day - € 12
18 years & under: 4 days - € 20 / € 5 per day
Students: 4 days - € 20 / € 5 per day (please have your student card)
Group Rate: 1 free registration with every 10 full 4-day adult registration fees paid. We do not offer group discounts for 1-day, 2-day or 3-day registrations or for reduced registration fees.
Ramble
4 days - € 57 3 days - € 45 2 days - € 30
€ 18 per day Thursday to Saturday. € 12 Sunday only.
Ramble registration fees are non-refundable. All 4-day registration fees include admission to the Blister Ball (tickets for the Blister Buffet will be sold at hotel reception).
Please submit your registration form and payment by May 30th to:
Castlebar International 4 Days Walks,
IBAN IE34 BOFI 9037 4411 6461 57
SWIFT / BIC BOFIIE2D
N.B. Please quote your Individual Payment Number when submitting your payment.
Under 18s Registration - please click on the form below: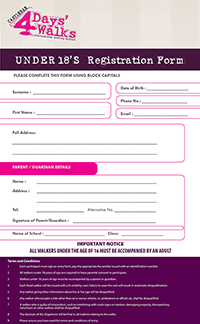 Awards
All road walkers are required to check back to the Registration Desk before 14.00hrs.
To qualify for the Castlebar medal a walker must have registered for all 4 Days before the start of the Walks on Thursday morning. To receive the medal a walker must complete 4 x 20km road walks or 4 x Rambles, or a combination of both. Walkers who register for individual days do not qualify for a Castlebar medal but will receive a certificate.
The Closing Ceremony takes place at 17.00hrs on Sunday and includes the presentation of the Castlebar silver and gold medals. The IML Walking Association awards, including European Walker and Master Walker are also presented at this ceremony.
Castlebar 4 Days' Walks Registration Form
Castlebar International 4 Days' Walks Office, New Antrim Street, Castlebar, Co. Mayo, Ireland
Tel/Fax: +353 (0)94 9024102
Mobile: +353 (0) 87 6776274
Site powered by [ Attik

Designs ]