Banner13

Banner12

Banner 11

Banner 10
Ramble
The Ramble is a unique feature of the Castlebar International Four Days Walks and holds a special place in the hearts of our international walkers. In the early days, when the Ramble was first introduced, with only twelve walkers it was clear that this was going to become a feature of the Castlebar Walks. In the very beginning it was the 40km road walk that attracted the overseas visitors and the Ramble was the preserve of a small group of dedicated local walkers. Thanks to the perseverance of this first group of ramblers this part of the festival has evolved and now, in many ways, is the very heart of the Castlebar Four Days Walks.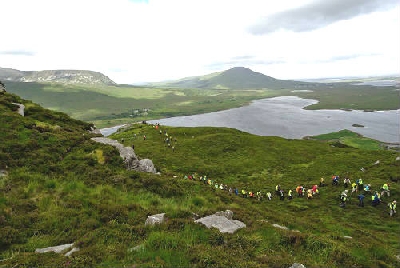 Each Ramble is approximately 5 hours in duration. The routes, which include walking across bog and heather moorland, offer the walker a special opportunity to experience the landscape and wonderful views of County Mayo. On a clear day you can see forever! The combination of spectacular scenery and remote wilderness together with the variety of terrain make the Ramble a walker's dream. These are the most popular walks in the Castlebar Festival and are led by guides with a rich knowledge of the local landscape and history. All 3 Rambles take place outside of Castlebar and a bus transfer is provided to & from our HQ.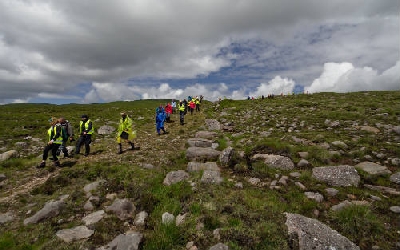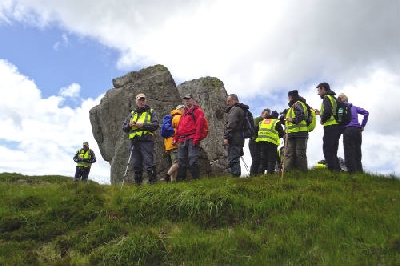 Ireland has a maritime climate so walkers should prepare for inclement weather and the terrain can be wet underfoot. The Rambles include some moderate climbing (under 400m) therefore walkers must ensure they are fit and have suitable equipment - waterproofs, walking boots, spare socks and walking poles. As the Rambles are in remote areas, walkers are requested to carry adequate snacks and drinks.
Here in Castlebar, we know that the Ramble provides a perfect space and time for walkers to exchange thoughts, have endless chatter, talk with complete strangers or nobody at all while feeling the beauty of the West of Ireland landscape in all its elements. The Ramble is ideal for anyone who wants time out from their busy everyday lives.
Letterkeen Loop Walk and Keenagh Walk are two possible Rambles for 2017.
Please see here for a map for the walk on the 4th day.

Essential Requirements for the Ramble:
Walking boots.
A small first aid kit.
A packed lunch and adequate water.
And a rucksack to carry it all!
Contact Details
Castlebar International 4 Days' Walks,
Office ,
New Antrim Street ,
Castlebar ,
Co. Mayo ,
Ireland
Tel: +353 (0)94 9024102
Castlebar International 4 Days' Walks Office, New Antrim Street, Castlebar, Co. Mayo, Ireland
Tel/Fax: +353 (0)94 9024102
Mobile: +353 (0) 87 6776274
Site powered by [ Attik

Designs ]